SERVICES

Chef specializing in typical Bahian and International cuisine, able to prepare a menu of your choice.

We offer services of butler, chef of kitchen, governance, support of beach and pool, the employees are trained in level of luxury hotel, friendly and kind.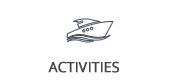 The lush nature of the region invites guests to take unforgettable walks. When you stay with us, ask for more information.

Our beach service with "Drinks and Meals" is at your disposal at any time of the day, as well as all the other services we offer.